» Home / About Us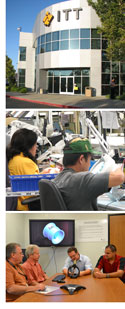 ITT Aerospace Controls, Aftermarket Services (ITTAC/AS), is located in Valencia, CA.
This location houses the manufacturing and stocking facility that serves both our domestic and international customers.
Originally, our Valve operation was founded in 1936 and was formally known as General Controls. That gives us over 77 Years of diversified products solutions and quite simply, a legacy that we are very proud of. In 1963, the Valve operation was acquired by ITT and this marks over 50 Years that we have been providing Valves and Actuators to the aerospace community. In 1973, the Neo-Dyn Switch operation was founded and later acquired by ITT in 1978. Giving us over 40 Years in supporting the aerospace switch industry. In 1985, the Valve operation which was located in Burbank, CA and the Neo-Dyn Switch operation which was located in Chatsworth, CA were integrated into Aerospace Controls. In December 1994, the Valve and Switch operations were merged and relocated into the facility in Valencia, CA.
Aerospace Controls' growth has been based upon a strong commitment to our customers. The large client base of OEMs and sub-tier suppliers who have selected us to support their programs acknowledges this. These companies know they are receiving reliable and high quality products that will support their program applications as designed.
About ITT Corporation
ITT is a diversified leading manufacturer of highly engineered critical components and customized technology solutions for the transportation, industrial, and energy markets. Building on its heritage of innovation, ITT partners with its customers to deliver enduring solutions to the key industries that underpin our modern way of life. ITT is headquartered in White Plains, N.Y., with employees in more than 35 countries and sales in approximately 125 countries. For more information, visit www.itt.com.